♥ Appi Cöti and Cöta preorder ♥ 24/08/17 – 14/09/17
☆ Traduction française en deuxième partie de post ☆
We are so happy to announce that Appi Cöti and Appi Cöta preorder will be held from the 24th of august 2017, to the 14th of september 2017.
As usual, this will be the one and only preorder for these dolls.
Don't forget that paypal option is not available anymore. However, layaway options are available up to 3 months (bank transfers and credit card only) ~
♥  The price without makeup will be 400 euros.
♥  Both Viridian House and Esthy's makeup options will be available, for 64 euros
We received a lot of very touching messages about those two, we are really glad to finally launch a preorder for them, and we really hope you will like them as much as we do!!
Thank you again for your love ♥
♥ ♥ ♥ ♥
Nous sommes ravies de vous annoncer les dates pour la preorder des Appi Cöti et Appi Cöta, qui aura lieu du 24 août 2017, au 14 septembre 2017.
Comme pour les autres, il s'agira de la seule et unique preorder pour cette poupée.
N'oubliez pas que l'option PayPal n'est plus disponible pour vos paiements. Mais les options de layaway sur trois mois (virements bancaires, CB et chèques uniquement) sont toujours disponibles~
♥  Le prix sans makeup sera de 400 euros.
♥  Les options makeups seront disponibles par Viridian House et Esthy pour 64 euros.
Nous avons reçu beaucoup de messages touchants à propos de ces deux poupées, et c'est avec un immense plaisir que nous pouvons enfin les proposer en preorder, nous espérons qu'elles vous plairont autant qu'à nous!!
Merci encore pour votre amour ♥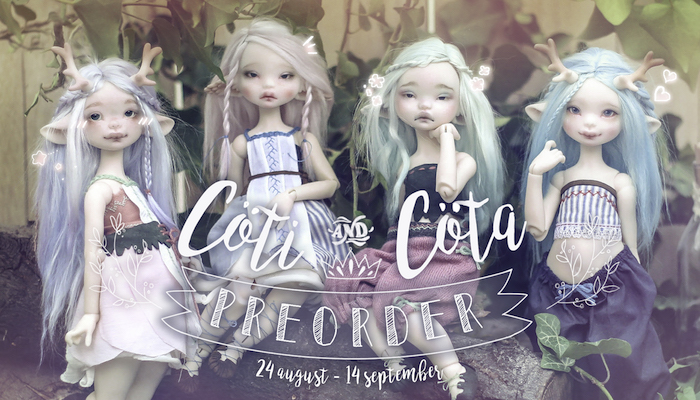 Photography by Quartz Qin ♡