Knock knock! Who's There?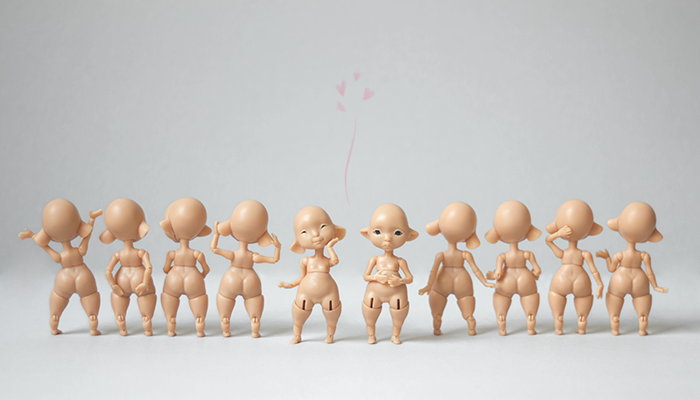 Les Appi Lünn et Khöl sont maintenant presque toutes chez leurs propriétaires, il ne manque plus que les dernières petites, parties profiter des pinceaux magiques de Caroline. Il est temps de vous montrer les dix chipies qui sont arrivées chez nous il y a quelques jours!! Nous planifions en ce moment même la prochaine pre-order, ce sera une autre Appi, nous ne savons pas encore laquelle (nous attendons des nouvelles de l'usine). Mais comme nous avons eu beaucoup de demandes pour nos petites Krot Ärie et Këte, nous sommes heureuses de vous annoncer la première vente limitée de ces deux moules!
Nous avons donc dix petites dans un joli tan qui ressemble à un bonbon au caramel. Elles seront vendues en fullset, maquillées par Esthy et habillées par Plume Blanche. Petit plus, chacune viendra avec les deux faceplates! Le thème que nous avons choisi reste une surprise pour le moment, nous comptons sur nos deux artistes pour faire de ces dix toutes petites puces d'adorables concentrés de choupitude!!!
Rendez-vous très bientôt pour plus de nouvelles ♥
—— ♥ ——
Our Appi Lünn and Khöl are now almost all send to their new homes, we just have to dispatch the last ones who left to Caroline's place for being makeuped. It is now time for us to show you the ten little things we received a few days ago!! We are currently planning the next pre-order with our factory, it will be another pre-order of Appi size, but we are waiting the factory's answer to know which one. But you were so numerous to ask for our small Kröt Ärie and Këte, that we are really happy to announce the first very limited sale of those two molds!
We have got ten of those little cuties, casted in a soft and yummy caramal tan. They will be sold with fullset, makeup by Esthy and clothes by Plume Blanche. Exceptionnaly for the limited edition, each doll will come with both faceplates! The theme we choose will stay a surprise for now, we knows trustfully that our two talented artist will transform those ten little ones into real concentrates of love and cuteness!!!
Rendez-vous very soon for more news ♥